Think you are at the mercy of Mother Nature? Maybe not.
With Trimble Ag Software's hail alerts, farmers get specific information about damaged areas right in their inbox.
As a Trimble Ag Premium Weather user, you now have the benefit of...
Saving valuable time by knowing precisely when and where your farmland has been hit by a hail event, including the size of the hail.
Skipping the guesswork. Know exactly where to go — or direct your crop scout, field agronomist or hail adjuster to go — to assess the damage and investigate possible remedy treatments.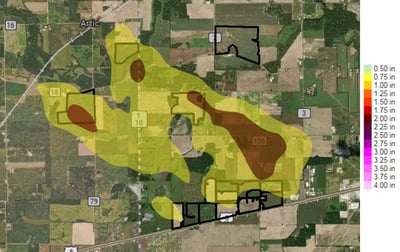 You'll see contoured hail maps overlaid with your field boundaries, giving you the complete picture the morning after a hail event.